Top Rated Native American Law Lawyers in Eugene, OR
Related Practice Areas: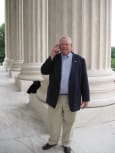 Top Rated Native American Law Lawyer
Law Offices of Robert D. Lowry
Eugene, OR
Robert D. Lowry has multiple years of experience in helping clients with their native american law needs in Eugene, OR.
Results 1 - 1 of 1
Native American Law
The legal landscape concerning Native Americans is intricate.
Each Native American tribe is a sovereign entity with its own unique legal system.
Depending upon the situation, there are various state or federal laws, regulations, acts or treaties that may also apply.
Avoid common pitfalls and make informed decisions.
Find a local attorney selected to Super Lawyers with comprehensive knowledge of local Native American laws and many years of experience negotiating between tribal representatives and the Bureau of Indian Affairs.
Super Lawyers offers a free, comprehensive directory of accredited attorneys who've attained a high-degree of peer recognition and professional achievement.
Get the help you need today.
Are you searching for a top native american law lawyer in Eugene, Oregon?
Through Super Lawyers directory, we index attorneys who practice quality and excellence in their work. It is easy to browse native american law attorney listings in your immediate area, search for a specific individual referred by a friend, or start narrowing your search by practice area.
Did you find individuals who interest you? Learn more by exploring their profiles. There you will find a native american law attorney's contact, education, and biographical information to supplement your research. Where possible, our profiles will also include links to a native american law lawyer's personal biography, firm website, and other relevant information to consider.
Are you ready to take action? Our profile's contact form is simple to use and makes it easy to connect with a lawyer serving Eugene, Oregon, and seek legal advice.
Super Lawyers Rating System
Super Lawyers is a research-driven, peer-influenced rating service of outstanding lawyers who have attained a high degree of professional achievement and peer recognition. The patented selection process combines peer nominations, independent research evaluations and peer evaluations by practice area. Each year no more than 5 percent of the attorneys in the state are selected for the Super Lawyers list, and no more than 2.5 percent for the Rising Stars list.